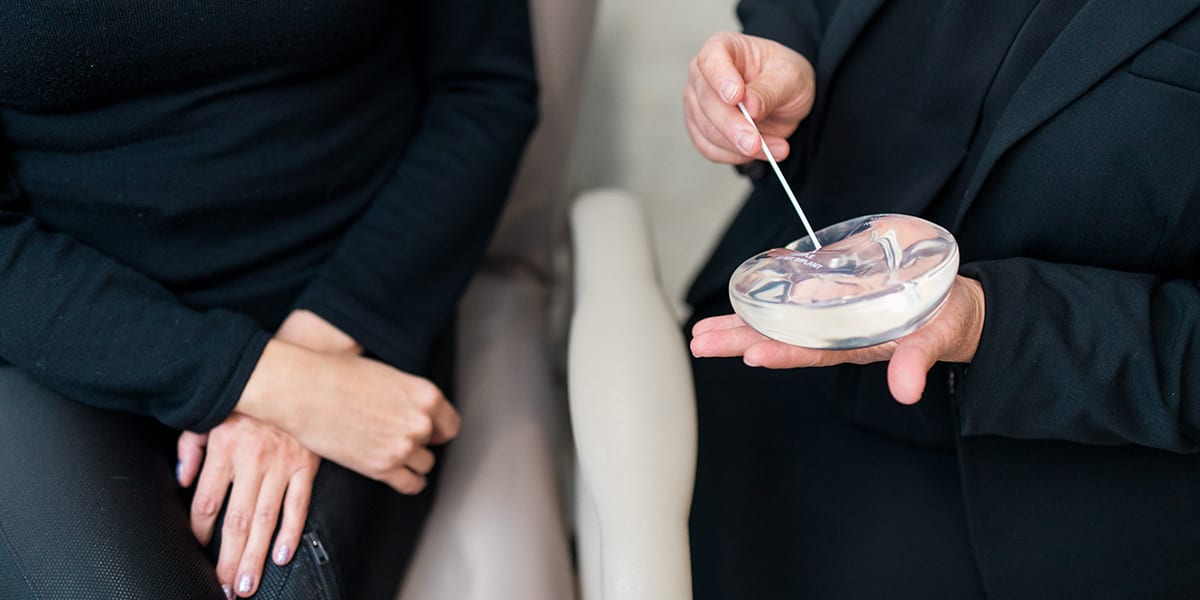 Breast augmentation, also known as mammoplasty, is a surgical enhancement procedure to accentuate the size and shape of a woman's breasts. While breast augmentation will make the breasts larger, the surgery will not move the breasts closer together or lift sagging breasts. Breast augmentation is tremendous help to patients who desire a fuller profile, who have lost breast volume due to pregnancy or nursing, or who have undergone breast reconstruction and want to gain a more natural look again.
Reasons for Considering Breast Augmentation:
Enhance body shape if breasts are too small.
Increase breast volume after pregnancy and nursing.
Equalize a difference in breast size (cup size) to gain breast symmetry.
Reconstruct breasts following a mastectomy or injury.
Am I a Good Candidate to Receive a Breast Augmentation?
Breast augmentation is a highly individualized procedure that may be a good option for you if you are physically healthy, have realistic expectations about the results, and are bothered by your breasts' size, shape, or volume.
A Breast Augmentation is Great For
Improving body proportion

Boosting self-confidence

Restoring breast fullness lost after weight reduction or pregnancy

Achieving a more rounded breast shape
Types of Breast Implants for Breast Augmentation
Choosing breast implants is a crucial part of your breast augmentation journey. Dr. Ting offers a variety of options, including saline implants, silicone implants, and fat transfer to the breasts. The ideal implant depends on your needs, aesthetic goals, and anatomical considerations.
Saline Implants
Saline implants are a type of breast implant filled with sterile salt water, providing a uniform shape, firmness, and feel. One of the key benefits of saline implants is their safety profile. In case of a rupture, the saline solution is safely absorbed and naturally expelled by the body. Additionally, these implants can be adjusted for volume during surgery, allowing for more flexibility in customizing the desired breast size and form. They are also generally more cost-effective compared to other implant types.
Silicone Implants
Silicone implants are a popular breast implant filled with a silicone gel that mimics the feel of natural breast tissue. They are known for their realistic texture and aesthetic appeal, offering a more natural look than other implant types. Even in the event of an implant leak, the gel tends to remain within the shell or the breast implant pocket, mitigating health risks. Silicone implants come in various sizes and shapes, providing a wide range of options to tailor the augmentation to your unique body type and aesthetic goals.
Taking the First Step: The Initial Consultation
At Veritas Plastic Surgery, we strive to make your initial consultation as comfortable and informative as possible. Dr. Ting will discuss your aesthetic goals, review your medical history, and explain the different types of implants and surgical techniques available.
The Breast Augmentation Procedure
Breast augmentation involves making a small incision to insert a breast implant into the breast area in order to enlarge the breast. The surgery is commonly performed on an outpatient basis at a hospital or state-of-the-art surgical unit while the patient is under general anesthesia and asleep. There are several possible locations for the small incision that will be used for inserting the breast implant. The most frequent technique utilizes an incision made in the lower portion of the breast. Another technique, though less frequently used, involves making an incision in the armpit. A third technique makes an incision around the areola (the darker skin surrounding the nipple). A newer technique uses an incision in the belly button, thus reducing the chance of scarring in the breast area. The ideal technique will be decided together between the patient and the surgeon during the consultation.
During surgery, the breast tissue is raised to create an open pocket under the breast tissue or beneath the chest wall muscle. Inserting an implant behind each breast can increase a woman's breast size by one or more bra cup sizes. Implants typically contain a saline solution (similar to saltwater) although in special cases the implants can contain a silicone gel. In some circumstances, particularly those in which there is breast asymmetry (uneven breast size), an inflatable implant may be used to allow the surgeon to adjust the level of inflation to attain breast symmetry and balance. Surgery typically lasts from 1 to 3 hours.

Recovery Process
Generally, post-operative instructions call for plenty of rest and limited movement in order to speed up the healing process and recovery time. Bandages are applied right after surgery to aid the healing process and to minimize movement of the breasts. Once the bandages are removed, a specialized surgical bra will need to be worn for several weeks. Patients sometimes report minor pain associated with the surgery. This pain can be treated effectively with oral medication. While complications are rare, patients can minimize potential problems by carefully following the directions given by the physician after surgery.
Frequently Asked Questions
Are Breast Implants Safe?
Yes, breast implants are considered safe. However, as with any surgery, there are risks. Dr. Ting will discuss these with you in detail during your consultation.
How to Select Your Breast Implant Size
Choosing the right implant size is critical to achieving your desired look. Dr. Ting will guide you through this process, taking into consideration your body frame, lifestyle, and aesthetic goals.
How Long Do the Results Last?
The average lifespan of breast implants is 10-20 years. Regular follow-ups with your plastic surgeon are crucial for maintaining your health and the longevity of your implants.
Talk to Dr. Ting About Breast Augmentation
Are you considering breast augmentation in Walnut Creek, CA? Veritas Plastic Surgery is committed to delivering exceptional patient care and results that enhance your natural beauty. Trust in the skill of Dr. Vivian Ting and take the first step towards a more confident you. Contact us today at (925) 949-8587 to schedule your consultation.